Do you have a relentless hunger to make a difference? A restlessness that keeps you driving forward? Would life be incomplete if you did not reach your 100% Max-Potential?
Well, that is where I will start. Growing up small town Jersey boy, as a dreamer I had envisioned playing professional basketball in the NBA. I came close having signed a contract with the LA Clippers before a busted ankle sidelined me. Unfortunately, injuries would be my theme over 3 years of playing pro basketball and the full NBA dream never was realized. Yet in that failed dream and my broken life, a coach made the greatest impact that radically transformed my journey. I got connected with the Great Growth Coach – Yes, that is my fun name for the Lord God himself. Coach became a driving force in my journey to reach my potential and ignited a passion to make an impact in the world I influenced.
I found competitive athletics had this way of moving my mindset toward always striving to be the best. There remained this intense desire for growth. To move forward and not get stuck or stagnant. I just did not know how to reach my potential or the pathway for growth. Over the next two decades I lived and walked through distinct periods of life and leadership adversity that I had to learn to victoriously overcome to succeed.
The list of adversities is long. They included prolonged painful physical suffering that left me debilitated for almost 2 years in my mid-twenties, failed NBA dreams, broken personal relationships, bankruptcy, failed entrepreneur partnership, leadership pains and adversity, and performance challenges. Yes – the list is long.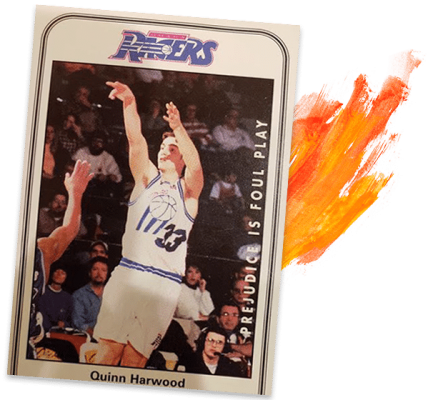 It became evident during each of these waves of adversity that there was growth to be gained. Having the Growth Coach, and other mentors, was instrumental in empowering me forward and seeing adversity with a clearer perspective.
I can clearly see in hindsight that adversity taught me 3 fundamental "growth zones" of Life and 3 fundamental "growth zones" of Leadership that needed to be developed and self-mastered to reach and live to my potential. These "growth zones" form the messages of GrowthTime!
They are the solutions to the problems leaders face today. They want to grow and develop; they just don't know where or how to invest into their personal growth to see the shifts, change and transformation they desire to see.
The 6 growth zones provide the roadmap and framework for personal development. I only wish I knew this 20 years ago and I could have avoided all the uncertainty, lack of clarity and undue stress!
One key pivot point came in 2009. It was during the middle of my 17-year professional leadership career with 24 Hour Fitness. Through clarifying my personal vision, I knew my God-given purpose was to "Grow and Develop Leaders' Lives through impactful Coaching, Training, and Education to reach their maximum potential." Kinda corny, but it had become my superpower as well – my unique strength to impact others' lives.
My vision and core values of Care, Commitment, and Trust became my driving force: Grow leaders, grow lives, and grow their business. This became my north star and motivator regardless of the challenge or adversity I faced.  
It was during my leadership career that 3 pain points continued to dominate with people's growth and development.
One is the realization that each team member works through his or her own life issues in the business setting. Life challenges were brought into the workplace and affected performance. These same team members also voiced a common complaint that "No one cares about me." They just care about driving performance numbers." Empowering others to grow in life was not part of the business equation.
The second was, "No one is committed to my development." Sound familiar? Any leadership initiative would come from the top down and never address the individual needs of the person. We are all uniquely gifted but we need personal commitment to develop to our potential.
The third was my own personal frustration. I had a desire to bring 'Coach God' into the workplace. However this was taboo, but many people were open to such discussion and realized their faith was an important part of helping them reach their potential.  Yet no one was providing any support or direction in this area on their terms.  
Over the next 11 years, I refined my coaching approach to management and leadership development. I became intensely relationship driven – supporting life and leadership development – and built high-performance teams, created winning team culture, and impacted many peoples lives. The great news is they drove great results! Seeing the growth of so many leaders and friends was immensely rewarding.
In 2020 my vision was enlarged by the Great Growth Coach and I decided to make a huge pivot. I took all my GrowthTime! learnings and began to create this coaching platform. I took by WHY – "To Grow and Develop Leaders' Lives" to the next level to impact the world I influence as a Leadership Life Coach. Since then, I have coached hundreds and hundreds of professional coaching sessions with people just like you. It has been awesome amazing to see the power of coaching transform their life and leadership, leading to next-level results!
If my story resonates with you, it is your GrowthTime! Time for you to connect and start moving in power to your potential. Greatness is on the other side.
If you're still reading...
…Every player should know more about their Coach!
As the saying goes, my Mom says I could sell ice to an Eskimo.   I tell people I have never sold anything a day in my life.  I just look to inspire and influence others into action to live their best life!  I currently still rank in the top 5 All-time personal sales list with 24Hour Fitness having sold over 2.5 Million dollars in Fitness Revenue. Pretty cool!
I am a huge fan of leadership and development books.  John Maxwell's "Becoming a Person of Influence", Jocko Willink "Extreme Ownership", and Jon Gordon's "The Energy Bus" are some favorites.  Without cliché, the most life changing book continues to be my trusted sword, the Bible.
I had a radical conversion to faith in Jesus Christ playing professional basketball in 1997. The Lord truly has transformed my life and continues to do so.  He helped shift my ways, gave me breakthrough truths that transformed my life, and began to empower me to live for a "Max-Potential" life.  He is the true motivator behind my desire to see others grow!  I have spent over 20 years being involved in the various parts of ministry:  youth pastor, men's team leader, prayer ministry, kids ministry, deep inner healing ministry.  What a joy to serve His mission. 
I am excessively passionate, devoted and committed to my 3 amazing kids on their life journey.  Being a Forever Coach,  I have coached their youth and Club sports for over 14 years! They all love sports and No… I didn't have to force them.  We love to travel and we love the beach!